Whilst my readers are hopefully now used to a robust and frank style from Off the Party Line, this is obviously a sensitive topic and I have absolutely no intention of hurting or upsetting anyone, so rather than diving straight in, let's get the context of this clear.
Several years ago now, a couple running a bakery in Northern Ireland refused to bake a cake with an explicitly pro-gay marriage slogan on it for a potential customer. This was deemed contrary to Equality Law and was taken to court, where the couple lost their case on appeal. Having taken it to the Supreme Court, here is what has happened (taken from the Guardian):
"In a unanimous decision, the UK's highest court found in favour of an appeal by Ashers, which had refused to produce the cake in 2014 for Gareth Lee, who supports the campaign to legalise same-sex marriage in Northern Ireland.
"The judgment, delivered after the supreme court's first hearing in Northern Ireland in May, reverses earlier decisions in Belfast county court and a court of appeal ruling that the company discriminated against Lee, who is gay, on the grounds of sexual orientation.
"The five justices on the supreme court – Lady Hale, Lord Mance, Lord Kerr, Lord Hodge and Lady Black – found the bakery did not refuse to fulfil Lee's order because of his sexual orientation and therefore there was no discrimination on those grounds. The business relationship between Lee and Ashers did not involve people being refused jobs or services because of their religious faith, the judges added."
So that's where the story is up to. I'd also like to explain my personal views on some of the matters covered, before explaining why most of them are utterly irrelevant.
Firstly, I am a Christian and I attend an evangelical church. Secondly, I have no issue whatsoever with same sex marriage. I do not speak for the church on that issue, nor the other way around – these are my own views and I assert my right to hold them and have them defended anywhere. Thirdly, if it were me, I probably would have made the cake as requested. Fourthly, I believe that the law should uphold the right for nobody to be discriminated against based on who they are – including race, gender, sexuality, political views, whatever. The last one is a position that I tentatively hold purely on the grounds of pragmatism, it doesn't necessarily line up exactly with my general outlook.
Now – why most of that doesn't matter.
There's a lot of froth in this story when really it is very simple and can dispense with many of these factors. The allegation was that the gentleman was discriminated against because he himself was gay. The defence was that they would have served him any cake he liked, as long as they weren't forced to say something they did not want to say. Therefore, they weren't refusing to serve a gay man, they were refusing to say something they did not themselves believe. The couple, indeed, said they wouldn't print any message that was nasty to gay people either. There are plenty of straight people who are pro-gay marriage, and even some gay people who are against it, so it can't be that simple.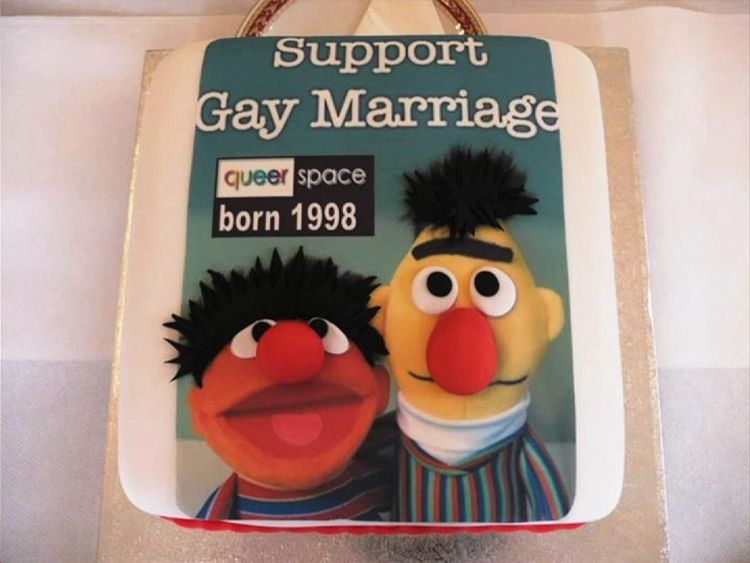 Hitchens put it this way in his column on the matter: "The planned cake is far more than a cake. It is a publication, because it will bear a political message to be displayed in a public place, perhaps to be photographed and filmed and shared on the internet.
"If this were a poster, a pamphlet, a newspaper or a book, the problem would be obvious. A publisher is being asked to publish a message he disagrees with. In a free society, he can refuse."
With that in mind, the Christianity element is froth, the gay marriage element is froth, the fact that it was a cake is froth, the fact the guy was gay is froth – the key element here is 'can the State force somebody to say or publish something with which they do not agree?' And surely – surely – if we can't agree on anything else, we can agree on that?
The original rulings were so clearly and obviously wrong that I was seriously frightened about the precedent it had set. I questioned the defence counsel, the judges, the supporters…how could they have got this so wrong? I genuinely feared for our liberty and what on earth they might make us do next. To state the blindingly apparent, they wouldn't have served this cake to a straight person either.
It is often distasteful in these situations to go straight to the 'what if it were a Muslim?' defence. It is of course true, but the sheer scope of what could be allowed here is staggering. Here is a short list, off the top of my head, of things that could have happened had this precedent been set:
A bakery run by a gay couple could be made to bake a cake saying 'gay marriage is an abomination'.
A bakery run by a Jewish couple could be made to bake a cake saying 'The Holocaust may not have happened – who really knows?'.
A bakery run by a Palestinian rights campaigners could be made to bake a cake for an Israeli saying 'Bibi Netanyahu is always right' with a picture of him in the 'thumbs up' pose, winking and smiling.
A bakery run by a trans person could be made to bake a cake saying 'real women don't have penises'.
A bakery run by a Labour councillor could be made to bake a cake saying 'vote UKIP'.
A bakery run by a Northern Irish Catholic could be made to bake a cake by a Northern Irish Protestant saying 'The Pope is a nasty, nasty man and really ought to be locked up'.
Now of course, you can take your pick of the above statements you agree with, disagree with or find downright horrible. But of course, that's the point isn't it? If you were to agree or not care, you could bake the cake. If you were to disagree or strongly condemn the message, you could refuse. That's the mark of a free society. You may disagree or condemn and still accept the job and do it – that's fine too.
I find the lack of any imagination on the other side of this debate quite staggering. If you'd won, are you really saying that this precedent is fine and you foresee no issues at all? You don't see, given the furore around this, seriously disagreeable and nasty people trying this theory out and making a big deal over their resistance? You can't imagine Tommy Robinson seeking out a bakery run by Muslims and filming himself applying this legal precedent that you've just won for yourselves?
The freedom to say or not say whatever we do or do not want is fundamental to this country's liberty. You have no idea when and in what form this could come back to bite you. Ask yourself seriously – is this the country you want to live in? If it is, I honestly fear you. Who knows what you'd happily make me do by force of law?
The rather wonderful and very brave gay rights campaigner Peter Tatchell said in 2016, "I profoundly disagree with Ashers' opposition to same-sex love and marriage, and support protests against them. They claim to be Christians, yet Jesus never once condemned homosexuality, and discrimination is not a Christian value. Ashers' religious justifications are, to my mind, theologically unsound. Nevertheless, on reflection the court was wrong to penalise Ashers and I was wrong to endorse its decision."
Take or leave the theology comments – I've heard it argued both ways.
Following the ruling of the Supreme Court, he stuck to his guns (emphasis mine).
"This verdict is a victory for freedom of expression. As well as meaning that Ashers cannot be legally forced to aid the promotion of same-sex marriage, it also means that gay bakers cannot be compelled by law to decorate cakes with anti-gay marriage slogans.
"Although I profoundly disagree with Ashers opposition to marriage equality, in a free society neither they nor anyone else should be forced to facilitate a political idea that they oppose. 
"The ruling does not permit anyone to discriminate against LGBT people. Such discrimination rightly remains unlawful."
Perfectly summarised. The law, as it stands, is good and it protects all of us – all of us. Given the content and the nature of the particular circumstances, it doesn't feel like much of a victory. I'm certainly not celebrating. But I am relieved. Much as this has been a difficult conversation to have, it needed to be had and we got the right result. With any luck, we can draw a line under this and move on.