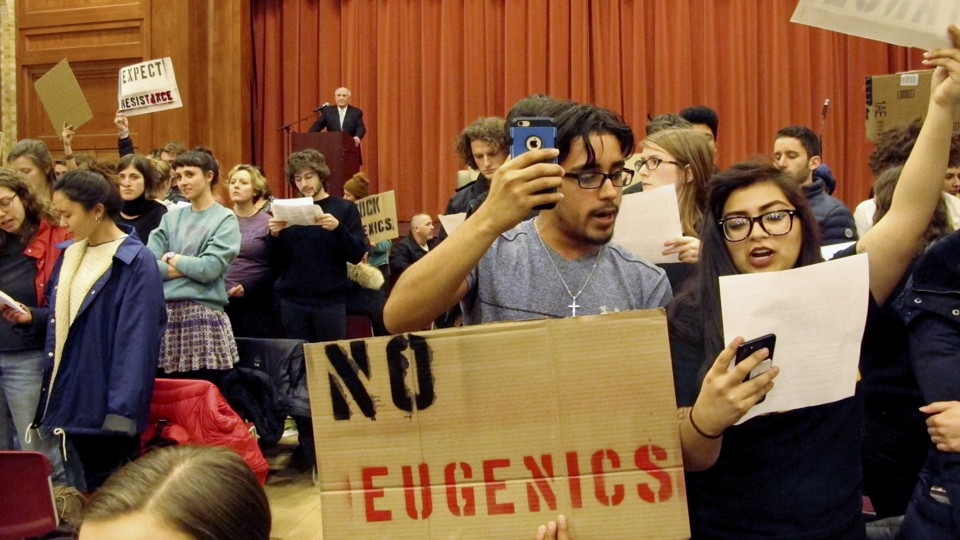 It is something that has been niggling away at me for some time, indeed a reason I started this site. Why do so many conversations these days end in an argument, smears, lies and bitterness? Why does this happen particularly online? Why are tribes forming where once there were simple disagreements? I think I may be stumbling toward an answer.
Now please, forgive me if this has been blindingly obvious to everyone else and I'm late to the party. But it seems to me that we have no desire to believe that our opponents are arguing in good faith. We assume ill of them, we figure malign intention on their part and, above all, we believe they must be bad people.
I don't see how any debate, discussion or argument can bear any fruit if this good faith is absent. The reason I offer the pages of this blog out to anyone who wishes to write for it is because I want people to give an unpopular opinion in an environment that encourages them to think freely and have the best assumed of them. If you give an 'off the party line' opinion, you have, by definition, thought it through, because the backlash wouldn't be worth it unless you believed it to be so. Again I offer – if you have an unpopular opinion, get in touch.
The viciousness of much public discourse these days can be attributed to a lack of good faith. Left wingers assume Conservatives are evil and sadistic, Tories assume Corbynistas want state control over which trousers you're allowed to wear that day, and so on and so forth.
But that is to provide a balance that I'm sure isn't a fair one. I hate to come across all Lefty-bashing here, but it seems to be well documented that the Left is increasingly savage and hostile to its opponents. Dissent is deemed intolerable and impure to so many on that side of the spectrum. Providing me with examples of it happening the other way round are fine, if you want to waste your time. I don't claim it is only one way, it definitely happens both ways – I merely offer a note of caution to those who claim themselves to be 'kinder, gentler' people. Is your bar really going to be the cowardly and deflecting phrase, 'yeh well they do the same thing to us'? I sincerely hope not. If it is, you offer no virtue that separates you from your opponents.
Let me just make that completely clear – I do not claim this is solely a Left wing problem. But it is one that should feel more urgent to those on the Left.
The Left is the wing that I should naturally be on. I try to have opinions on every issue individually, but inevitably there will be overarching principles that will inform my outlook. Most of those tend to be 'liberal'. But I cannot count myself as among the modern Left. Elements of both wings may share the attributes of hostility, nastiness and downright rudeness, but the Right makes little outright claim to be the opposite. It is the Left that self-declares its occupation of the grounds of 'kinder, gentler politics', 'reason and science', 'data-led policy'. And yet it simply isn't so. And therefore there is a hypocrisy that cannot be tolerated by anyone with half a brain or a conscience.
If it were indeed 'kind and gentle', it would not assume ill-intention of its opponents or shout and scream at them. If it were a lover of 'reason and science', it would not shout down those who question, for instance, new gender orthodoxies, but would engage based on research. If it were 'data-led', it would not engage in spurious, politically driven nonsense that clearly defies the data.
The obsession with the word 'hate', a word my mother told me not to use unless in extreme circumstances, is now so all-pervasive that mere disagreement is now deemed hate. Disagree with gay marriage? You hate gays. Hate them. All of them. Disagree with abortion? You hate women. Vote Tory? You hate the poor. Concerned about Islamic terrorism? You hate Muslims. Want immigration to be slowed down a little? You hate immigrants. No nuance, no discussion, just straight to the extreme. Straight to the sliming and the smearing.
When even the CiF pages of the Guardian are filled with those on the Left denouncing that newspaper for straying even a tiny bit off the party line, you get a sense that something isn't quite right. It was savaged in the wake of Jeremy Corbyn's election as Labour leader (the paper having backed Yvette Cooper – sounds crazy now, doesn't it?). Things have rarely been better since.
I am an occasional listener to Sam Harris's 'Waking Up' podcast, among others. He is an atheist, I am a Christian. He believes free will is not a fundamentally defensible concept. I believe it is central to our being. There are plenty more disagreements I could point out. But I believe he is honest, a man of integrity and fully believes every word he says, and therefore worth listening to. That is all I would ever ask of a person – its a reason I will never listen to the likes of Milo Yiannopolous or Katie Hopkins, because I simply do not accept that they really believe in what they're saying. They're professional trolls who feed their children and their lifestyles on the money they make from upsetting the Lefties who will consistently rise to their bait. They are not serious people. I don't believe they should be stopped from speaking publicly, but I won't be listening when they do.
Mr Harris has recently been in the middle of some controversy, which you can read for yourself, or better yet listen to his discussion of it. It is far too long and detailed to go through here, but suffice to say, he has been attacked by many on the Left for a particular podcast. His most recent opponent, Ezra Klein, the editor of Vox, took a completely bad-faith interpretation of the podcast and would not back down from his position despite plenty of evidence to show that he ought to. He could still have disagreed, but still have assumed good faith on behalf of his opponent. He steadfastly refused to do so.
I was struck by the end of one the podcasts in this controversy, and it made me realise just what a problem this is for the Left more so than the Right.
A listener contacted Sam to ask: "You come off cosy with those on the Right, and then when a blowout like the one with Ezra Klein comes, it seems you can't have the same warmth of relations and good spirit with a straight up Liberal".
Sam explains why this misses the point spectacularly (I have shortened the monologue to sum up the key parts – highlights are all mine):
"I, as you know, disagree with Jordan Peterson and Ben Shapiro [two men the writer had highlighted as Right wing examples] about many, many things…but the point here is not disagreement, it is slanderous misinterpretation. And that almost always comes at me from the Left…With Ben, I made a joke on our podcast together and Ben came away not realising that it was a joke, and so misrepresented my views elsewhere. I reached out to Ben by email: "Ben, you've got me all wrong. That was a joke". What did he do?…He apologised immediately, he regretted misrepresenting me.
"Same with Jordan Peterson when he got on Dave Rubin's show. He said the opposite of one of my core beliefs. It is the centre of the bullseye for me intellectually, and he was getting it wrong. So I wrote to Jordan, with whom I had a painful collision on the podcast, and I said "Jordan, you've got me completely wrong. You're misstating my views." What did Jordan do? An instantaneous apology. He said 'Sorry, I guess I have to read your books so I know what I'm talking about when we have our public events."
"That is a difference that cannot be exaggerated. Peterson and Shapiro and I will go on to disagree about many things, it could be very heated…but there is a world of difference between bad faith misrepresentations and honest engagement with a person's ideas."
This guy's whole experience of disagreeing with people on the Left is disheartening in the extreme. His experience of disagreeing with people on the Right is worlds apart from that, and is the way things should be. This is only one example of course, but I highly doubt this is not typical. My question to the Left would be, do you really want to concede the ground of honest, reasonable debate to the Right? When protesters can storm a lecture given by Jacob Rees-Mogg and he comes out as the level-headed, reasonable one, does that not set off an alarm bell? You're conceding this ground to your opponents and it will be hard to wrest it back.
Michael Shermer, editor of Skeptic magazine had this to say:
I'm not a fan of the term 'SJWs' (at this point it just comes across as a pejorative), but the point is made all the same. You get an insight into why more and more find themselves moving away from the Left and going elsewhere. There is no longer much tolerance or respect over there. It's shocking to see otherwise lovely, intelligent people spit bile over those with whom they disagree, rather than simply have the disagreement.
They seek to destroy, to burn, to have fired, to shun, to have removed from social media, to silence, to shut down anyone who will dare defy them. It is savage and bloodthirsty, as stomach churning to watch as it is to see a lion tear up a gazelle.
This assumption that 'they must think that because they are bad people or have malign intentions' is so unhealthy. If you can't believe your opponent is arguing in good faith (unless they've clearly and repeatedly demonstrated otherwise – again, see Hopkins, Yiannopolous, Klein), then not only are you doing them a disservice, you are doing yourself one as well.
The image that leads this piece is of students protesting Charles Murray's appearance at Middlebury in the US. He was invited to speak by conservatives in the college and was due to debate a professor who was planning to challenge him hard. He was not just going to speak freely – he was going to have a robust dialogue with somebody who totally opposed him and his ideas. But then the idiots started to shout him down as he spoke. Then what happened?
"When Murray and Stanger finished their dialogue [having moved to a secret place], they found themselves surrounded by protesters. The protesters—some of whom were wearing masks and may not have been Middlebury students—began pushing them. When Stanger tried to shield Murray, according a Middlebury spokesman, a protester grabbed her hair and twisted her neck.
"Murray, Stanger and their escorts made it to a waiting car, but the protesters "pounded on it, rocked it back and forth, and jumped onto the hood," according to The New York Times. One took a large traffic sign, attached to a concrete base, and placed it in front of the car to prevent it from leaving.
"Finally, Murray and Stanger got away. They had planned to eat dinner at a local restaurant, but, upon learning that the protesters planned to disrupt their meal, left town altogether. Stanger later went to the hospital, where she received a neck brace. "
Kinder and gentler, apparently. Hardly. This was a vicious attack on someone who was going to debate on their side. Complete insanity, and what happens when you refuse to engage in good faith argument.
Much like yesterday's post, I'm trying to help. I'm trying to show you how this looks to those outside your bubble. My main source of news and comment is the Guardian, but I venture to the Spectator as well, the Telegraph, the Independent, Hitchens in the Mail on Sunday. I listen to people like Ben Shapiro, Christina Hoff Sommers, Jordan Peterson as well as Owen Jones, Polly Toynbee and Gary Younge to name very few in my attempts to have as rounded a viewpoint as possible.
When you go to the places outside the bubble, you see so many people who are natural Lefties but who have either been shunned or can't bear to be a part of it anymore. If you don't care, then fine, that's not a problem. I won't tell you what you shouldn't or shouldn't care about. But if you keep wondering why you're losing elections or not being listened to or not being taken seriously, you have to start listening to the other side, and not whilst seething at the temerity of these people to dare defy the social norms.
I had a fantastic knockabout debate on Facebook with a small group of friends before the EU referendum. I will keep coming back to this time as a perfect example of peers treating each other with respect and dignity, because whilst we fundamentally disagreed, the basis of the whole discussion was that each of us was arguing in good faith. Without that, it could not have happened. We were all sincere and honest, and nobody insulted or attacked anyone else.
It really can be like that. But one side has to make the first move. Lefties – please let it be you.